Bulk operations on facebook aren't too easy to accomplish and typically involve some javascript hacking. For example, there's a number of scripts on the net that show you how to invite all your friends to an event.
However, when I want to share a page, I'd rather not come up with some kind of wannabe-event. I simply want to suggest the page to my friends.
It took me some time to figure out how to do that. The basic idea is the same – inject a bit of javascript that invokes a click() on all items, preferably using Chrome's console. The problem is that the actual list of friends is in an IFRAME, and Same Origin Policy will prevent you from gaining access to the contents of the IFRAME.
The Solution
If you haven't installed it yet, install Google Chrome. It's definitely the best browser for this kind of productivity boosting.
Create a new shortcut to Chrome with an added command line option --disable-web-security. This will deliberately disable a security feature called "Same Origin Policy". On my machine, the link looks like
C:\Users\UserName\AppData\Local\Google\Chrome\Application\chrome.exe --disable-web-security
Warning: This is dangerous. Do not use this shortcut for regular browsing , but only to toggle all selected friends.
Open the security-disabled Chrome and navigate to the facebook page you want to share and click "Suggest to Friends"
Right-Click the page somewhere and select 'inspect element' to open developer tools. Choose Console
Now, enter the following line:


javascript:v=document.getElementById("social_graph_invite_iframe");var friends = v.contentWindow.document.getElementById("all_friends").childNodes;for(i=0;i<friends.length;i++){friends[i].childNodes[0].onclick()};


Hit Enter in the console window to select/deselect all friends. This is nothing but a 'toggle all' feature the hard way.
A Detailed Walkthrough
Create a new shortcut
First, find your existing Chrome link, right-click it and select "Properties":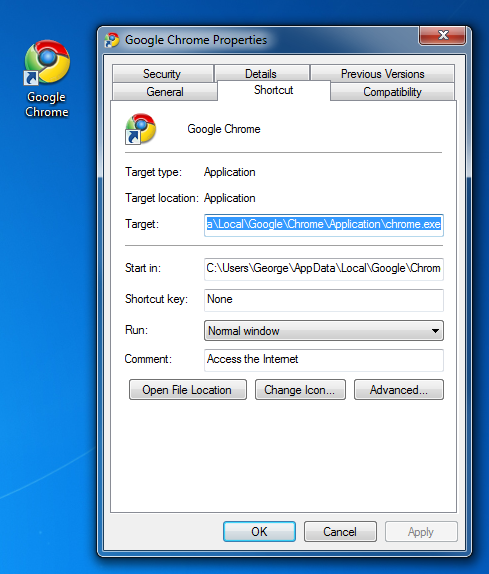 Select the text in "Target" and copy it (Ctrl + C).
Next, right-click the desktop and choose "New -> Shortcut":
In the dialog, paste (Ctrl + V) what you just copied and add
--disable-web-security
. Mind the space character in between!
Click "Next" and enter a name for the new link, for example "Chrome (Insecure)" which reminds you NOT to use this for day-to-day browsing:
Click "Finish" and you should end up with a new shortcut on your desktop:
Applying the Javascript
Screenshots for the facebook / chrome part are coming, but that takes a little longer to ensure privacy…
That's about it for now. Now go and share this link with all your friends
No related posts.